The Predator (2018)
Sep 14,

2018
Directed By: Shane Black
Written By: Shane Black, Fred Dekker
Cast:
Boyd Holbrook,
Trevante Rhodes,
Jacob Tremblay,
Keegan-Michael Key, Olivia Munn,
Sterling K. Brown,
Alfie Allen,
Thomas Jane,
Augusto Aguilera, Jake Busey,
Yvonne Strahovski
Rating: R (for strong bloody violence, language throughout, and crude sexual references)
Genre:
Action & Adventure
,
Horror
,
Science Fiction & Fantasy
Studio: 20th Century Fox
From the outer reaches of space to the small-town streets of suburbia, the hunt comes home in Shane Black's explosive reinvention of the Predator series. Now, the universe's most lethal hunters are stronger, smarter and deadlier than ever before, having genetically upgraded themselves with DNA from other species. When a young boy accidentally triggers their return to Eart only a ragtag crew of ex-soldiers and a disgruntled science teacher can prevent the end of the human race.
Went to see The Predator with my husband and 17-year-old daughter (she was the control since she's never seen any of the previous Predator movies—I know, parenting fail). The Predator has gotten a lot bad reviews, but come on it's The Predator! All three of us enjoyed the flock out of the movie.
Don't get me wrong, there were a lot of things so wrong with it, but that made it so right. There are a lot of references to the original movie and Arnold Schwarzenegger. Including this gem...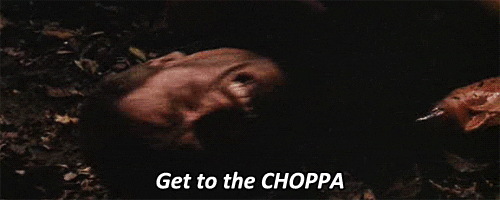 Yes! They used this line. I won't spoil how but it was pretty clever.
The movie is just as if not gorier than the other Predator movies with lots of action and stupid humor that we laughed at in spite of.
The biggest failing was the representation of an autistic child. He was a major plot device but the autism only presented itself when convenient. They aren't disrespectful of autism, just unrealistic. But so is the Predator having hunting dogs...which they do!
Bottom line, it is exactly what you think it will be and if you love that kind of thing, go see it.
Don gives it 4.5 Sheep
Holly gives it 4 Sheep
I give it 4 "Welcome to the Loony bus" Sheep
SharonS