Maple Ginger Shortbread for Tea and Steampunk by Beth Cato. Are you hungry? Do you want to indulge in something buttery and delicious and absolutely not good for you? See, I'm the author of the steampunk fantasy series The Clockwork Dagger. The second book, The Clockwork Crown, is about to come out. I'm also a food blogger. Every Wednesday I post a new recipe in my Bready or Not series. I'm well known for my evil cookies.

The steampunk genre is inspired by Victorian and Edwardian style and etiquette, and therefore appreciates a good cup of tea. Shortbread is perfect for tea time. Within my books' world, there is a deep appreciation of maple goodies from a nearby kingdom. Maple is one of my absolute favorite flavors, and one I often use on Bready or Not. Therefore, I'm about to share my original recipe for Maple Ginger Shortbread. It's the perfect treat to accompany tea (or coffee) and a good book.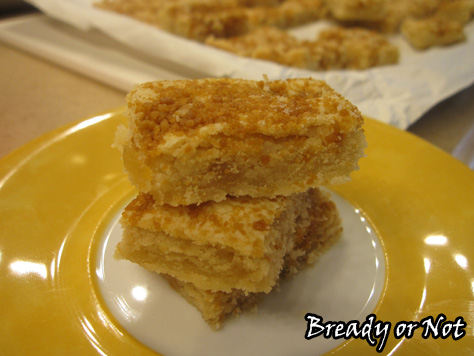 Maple Ginger Shortbread: A Bready or Not Original
1 cup butter, room temperature
1/2 cup crystallized ginger, chopped
3 Tablespoons maple sugar or turbinado/raw sugar
*Line a 10x12 small jelly roll pan or a 13x9 casserole dish with aluminum foil or hybrid parchment paper/foil.
Apply a light coating of nonstick spray.
*Combine butter, salt and sugar in a bowl and beat until fluffy. Add the maple extract.
*Slowly add the flour until just combined.
*Stir in the chopped up crystallized ginger.
*Press the dough into the prepared pan. Sprinkle the coarse sugar over the top and lightly press in. Cover the pan with plastic wrap and refrigerate for at least an hour or overnight. *Preheat the oven to 300-degrees.
*With a sharp blade (a baker's bench knife is handy here), slice the dough into small rectangles and then pierce the top of each piece a few times with fork tines or a chopstick.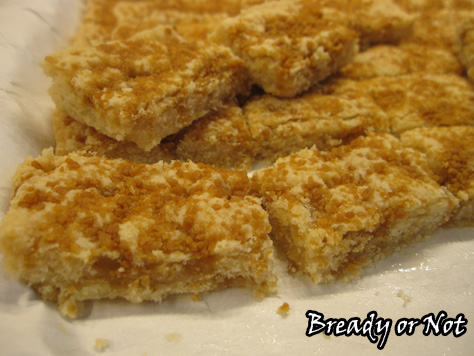 *Bake the shortbread for 30 to 35 minutes, until it looks set and the edges are barely turning gold. Let cool for 10 minutes and then re-slice the cookies along the same lines. Let the pan completely cool. Use the foil to lift out the shortbread and again cut along those lines to separate the pieces. Store in a covered container at room temperature; the maple flavor will actually deepen over the next day. Shortbread also keeps very well to mail!
The Clockwork Crown
by Beth Cato
Harper Voyage Impulse
Pages: 352
Genre: Steampunk


Release: June 9, 2015
Format: Kindle
Rich in atmosphere, imagination, and fun, the action-packed, magic-filled sequel to The Clockwork Dagger is an enchanting steampunk fantasy, evocative of the works of Trudi Canavan and Gail Carriger.

Narrowly surviving assassination and capture, Octavia Leander, a powerful magical healer, is on the run with handsome Alonzo Garrett, the Clockwork Dagger who forfeited his career with the Queen's secret society of spies and killers—and possibly his life—to save her. Now, they are on a dangerous quest to find safety and answers: Why is Octavia so powerful? Why does she seem to be undergoing a transformation unlike any witnessed for hundreds of years?

The truth may rest with the source of her mysterious healing power—the Lady's Tree. But the tree lies somewhere in a rough, inhospitable territory known as the Waste. Eons ago, this land was made barren and uninhabitable by an evil spell, until a few hardy souls dared to return over the last century. For years, the Waste has waged a bloody battle against the royal court to win its independence—and they need Octavia's powers to succeed.

Joined by unlikely allies, including a menagerie of gremlin companions, she must evade killers and Clockwork Daggers on a dangerous journey through a world on the brink of deadly civil war.
About the Author:
website

-

FB

-

twitter
Beth Cato hails from Hanford, California, but currently writes and bakes cookies in a lair west of Phoenix, Arizona. She shares the household with a hockey-loving husband, a numbers-obsessed son, and a cat the size of a canned ham. She's the author of THE CLOCKWORK DAGGER steampunk fantasy series from Harper Voyager. The newest book, THE CLOCKWORK CROWN, comes out on June 9th, 2015.