Darkness With a Chance of Whimsy
by R. J. Sullivan
June 16, 2015
Genre: Science Fiction/Horror
Urban Fantasy/Paranormal
Seventh Star Press
Dark clouds overhead may stir up whimsical twists. Collected for the first time since their initial publications, Darkness with a Chance of Whimsy presents ten tales from the imagination of R.J. Sullivan. Thrills and chills await you, but you may also get blindsided by the absurd. This volume includes a pair of stories featuring Rebecca Burton, the mysterious investigator of R.J.'s acclaimed paranormal thriller series. Among the ten stories, you'll find: "The Assurance Salesman" shows five strangers more about themselves than they ever guessed. You don't want to venture into Daddy's basement in "Fade." Rebecca Burton tries to talk someone out of a bad idea in "Backstage Pass." A bullied police detective finally defeats his rival in "Able-Bodied." A desperate father finds the "Inner Strength" to save his young daughter, "Becky" Burton. A child seeds his aquarium with a most unusual "Starter Kit." A brilliant robotics engineer creates a "Robot Vampire."
This title of this collection is very appropriate. Kind of hard to describe the stories inside, but if you love The Twilight Zone, The Outer Limits, and The Crypt Keeper then you'll enjoy this book!
One reason collections tend to fall a little flat for me is because there isn't a distinct voice for the characters in each story. But Sullivan achieves this beautifully. You will get lost in each story and quickly finish the whole collection before you know it. Engaging, creepy and thought-provoking.
SharonS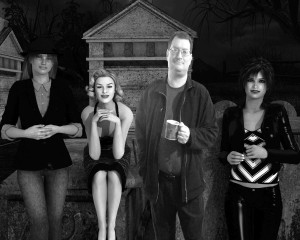 About the Author:


website

-

FB

-

twitter


About R.J. Sullivan: R.J. Sullivan's novel Haunting Blue is an edgy paranormal thriller and the first book of the adventures of punk girl Fiona "Blue" Shaefer and her boyfriend Chip Farren. Seventh Star Press also released Haunting Obsession, a Rebecca Burton Novella, and Virtual Blue, the second part of Fiona's tale. The short stories in this collection have been featured in such acclaimed anthologies as Dark Faith Invocations by Apex Books and Vampires Don't Sparkle. His next book due out very soon will be Commanding the Red Lotus, which collects the series of science fiction novelettes in the tradition of Andre Norton and Gene Roddenberry.

R.J. resides with his family in Heartland Crossing, Indiana. He drinks regularly from a Little Mermaid coffee mug and is man enough to admit it. www.rjsullivanfiction.com