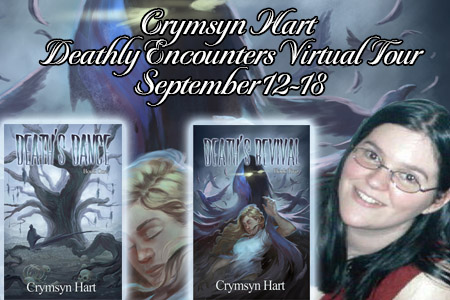 What are the top ten things that Reapers have to deal with? Good Question. I guess I'll have to bug one of them to let me know. Here's what they said:

1. Death

2. Deciding what to wear. Sometimes the black robes get on their nerves.

3. Dealing with people who don't want to cross over. You would never believe how many want to stay and watch their loved ones.

4. People who think they are invincible and then jump off a cliff and then… yeah they die and constantly argue with the reapers that they really aren't dead

5. Having a relationship. It can be difficult having a love life when you are on call 24/7.

6. When other entities try and kill you because there is only a handful of things that can kill a reaper. That and it tickles when stuff passes through them.

7. Dealing with other angels because they think they are better than you because all reapers do is collect souls.

8. Death.

9. Finding down time to read a good book or go to the movies. Some of them are really into the Disney Princesses.

10. Telling people that death isn't a bad thing. It's only a transition into another form of consciousness. Reapers aren't the bad guys. Unless they're insane. Then watch out.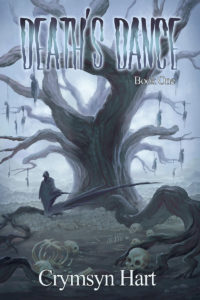 Death's Dance (Deathly Encounters Book 1)
by Crymsyn Hart
June 23, 2014
256 pages
Being a psychic, you would think talking to the dead was a walk in the park. However, it's not always that simple. The hooded specter haunting me is one I've been dreaming about since I was a kid. One day, he appeared in my bedroom mirror. Good. Evil. I don't know what his true intentions are. Enter Jackson, ghost hunting show host extraordinaire, and my ex, to save me from the big bad ghost. From there…well…it's been a world wind of complications. My house burnt down. I'm being stalked by an ancient evil and gotten myself back into the world of being a ghost hunting psychic. Jackson dragged me, along with a few other psychics, to a ghost town wiped off the map called Death's Dance. From there things went from bad to worse. Death's Dance is Book One of the Deathly Encounters Series.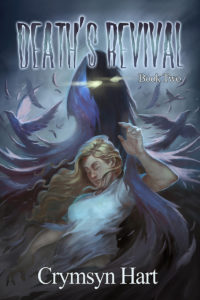 Death's Revival (Deathly Encounters Book 2)
by Crymsyn Hart
May 11, 2016
294 pages
Becoming a grim reaper was right up my alley. I enjoyed being dead. I helped souls crossover into either Heaven or Hell with my fellow reaper, Than. For two years, I enjoyed my life and then the killings started. Psychics were being murdered at haunted sites and souls disappearing.Someone was tampering with the fabric of the universe, trying to draw something evil into this world. To do that, the killer needed the souls of the psychics and the ghosts he could gather to open the doorway.I was charged with saving those souls and find out who the serial killer was. Yeah, being used as bait was definitely not my first choice, but who can kill a grim reaper?I'm already dead.With Than's help, I'll stop the evil from penetrating this world so I can get back to my soul gathering. I mean the dead stay dead, right?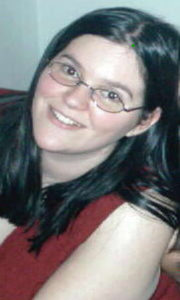 About the author:
website-FB-twitter
Crymsyn Hart is a National Bestselling author. Her worlds are filled with luscious vampires, gorgeous gods, quirky witches, and everything else that goes bump in the night. Hell, there is even a delicious cheesecake god floating around, but if I were you I wouldn't eat his brownie cheesecake. Crymsyn worked as a psychic for many years in Boston while attending Emerson College. She graduated with a BFA in Writing, Literature, & Publishing. Crymsyn shares her life with a small zoo, three playful puppies and her hubby Mark. If you come after dark, you're more then likely to find her snuggled up with a gory horror movie, or a bloody vampire movie. Crymsyn has a collection of Living Dead Dolls and five bookshelves overflowing with book
s. Of course there's always room for more.
Tour Schedule and Activities
9/12
Beauty in Ruins
Top Ten's List
9/12
Sapphyria's Book Reviews
Guest Post
9/12
The Seventh Star Blog
Author Interview
9/13
MyLifeMyBooksMyEscape
Author Interview
9/14 The Southern Belle from Hell Top Tens List
9/14
Sheila's Guests and Reviews
Guest Pos
9/14 Jordan Hirsch Review
9/15
Deal Sharing Aunt
Author Interview
9/15
SpecMusicMuse
Guest Post
9/16 Jordan Hirsch Review
9/17 I Smell Sheep Top Ten's List
9/18
The Enchanted Alley
Review