We have a little survey to help us improve the blog. Please take the time to help us out, if you don't Baaart will cry...don't make Baaart cry...
HELP!
The site has grown, but our staff has shrunk! (damn aliens) Right now Katie and I are the only permanent reviewers. Thank the Sheep we have some fabulous guest reviewers: Buni Darling, Gef Fox, Pamela Kinney, and Ellis Carrington who contribute comic reviews, but they are busy with their own blogs/books and what not. We would like to add one or two reviewers who could contribute 3-4 times a month. We are an eclectic blog so anything that falls in the paranormal genre counts: movies, books, comics, music... we will be able to provide many comics and books through authors/publishers especially if you have an ereader.
If you are interested and willing to be occasionally abducted by aliens or want more information, contact us at flockparty at hotmail dot com.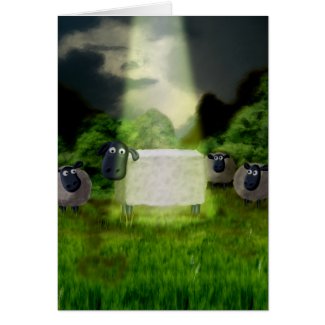 Alien Sheep Experiment Card
by
MDKgraphics
View Square sheep Cards online at
zazzle
Survey
We would like to keep the smell fresh around here. We have a few regular features and then our reviews. We would appreciate your thoughts on our content. What should we change, keep the same, or add? Is there something other blogs provide that we don't? We don't do memes, but would that be something we should add?