How does One Get To Be a Giant?
Goliath, The Giant is the hero from Steven Shrewsbury's newest
sword and sorcery epic fantasy tale
Philistine
interior artword
Sit down and fill your mug with wine, or, stand for all I care. Even though I'm flat assed on the ground in this tent, I'm still taller than you. I'm mildly amused by your words that I heard you utter outside, that's why I called you in where us soldiers are taking the nightly drinks. My ears are very good, it isn't just my arms and back that are strong.
How does one get to be a giant? That is funny, but I'm sure children ponder it and, apparently, adults. I wasn't stretched out nor did I eat my way to this level. Yes, my mother, and half brothers are all normal Philistine folk, if one can be such a thing. Are the tales true, you might ask? Is it true my father fell from the stars in the war for heaven and gave unto my sainted mother a boon that became myself? If ya believe in such things, that a Seraphim that lost in the battle with Michael covered a Philistine lass that now is treated like a goddess, well, you might be dumber than you look. What a story! It is so silly to imagine that. Why not tell everyone you met Goliath and he was a drunken prick, a right asshole and just bigger than usual? Tell the ladies he had a heart black enough to hide the stars, that sounds good.
I don't care about my legacy, young man. I don't worry on how my people, those around is or if history will recall me. Those that I care about will know the real me, those who rub up against my legend will say what they please, piss on them. I am that I am and have lived as I saw fit in a terrible world. Was his spear as big as a weaver's beam? Did he have Abimelech over there to tote his shield about just to show how big it is? Was he the one who captured the Ark of the Covenant and took it unto Ashdod and other places? I care little for the tales that men say, but a few amuse me.
interior artwork
I will leave no children behind, no piece of me will walk the earth and live in my long shadow. It is better that way. So many breed like rats out there that should not bother to be parents. There is little wonder we all never run out of men to kill and women to trade, look at the fools that run amok with no discipline in their lives. You might think me savage, but if I had not the mother I was born unto, I'd be an idiot dead in a field instead of Champion of the Philistines.
Do I flinch under the commands of Generals or the Kings of Philistia? They flinch under my reaction and their petty wars amuse me. One day, I shall grow weary of their petty fights and depart from this land, seeking amusement elsewhere, but that day has not yet came.
Who was the dire spirit that flummoxed our priests and nearly slew us all? Was it a grim harbinger of the future and some trace of my own bloodline? Bah. Read the scribes what they say I care little to discuss it further. Yes, I slew my cousin Neurath at Nebo. He need killing. Oh, don't be such a puppy. He had it coming? We all have it coming. You, me, your mother and sisters. Get over it and live while you can.
There is no tomorrow.
Steven Shrewsbury's Philistine (Epic-scale Sword and Sorcery)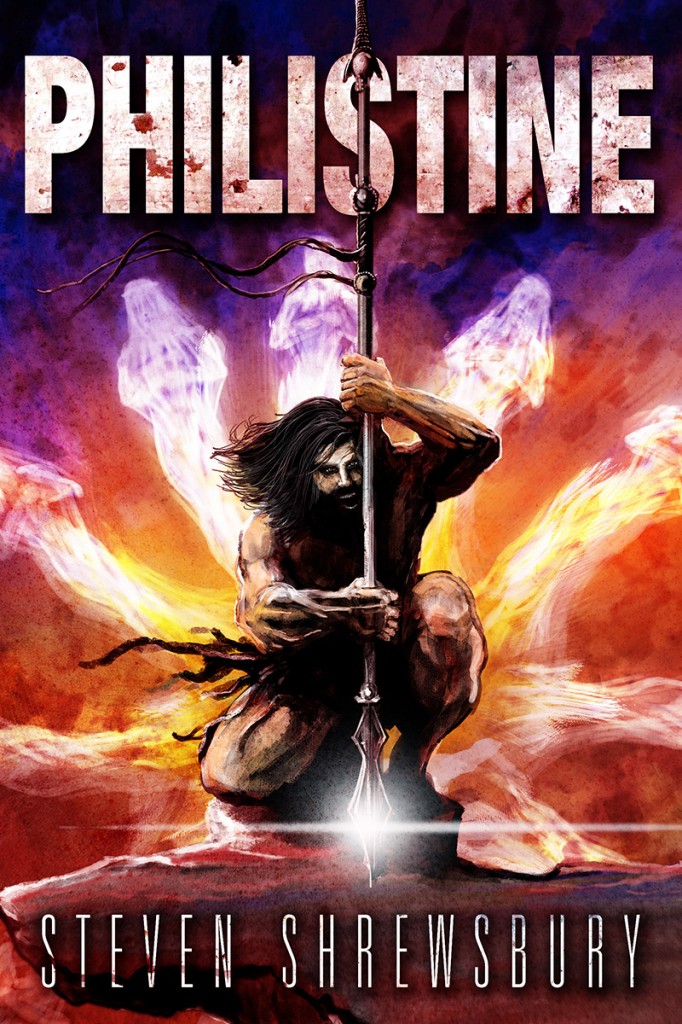 The Philistines, a mysterious warrior people known now for mainly one man: Goliath. The giant.

Goliath. A name grander than even the man himself. You've heard of his infamous end at the hands of a shepherd as written in a famous book, but what of the life of the man himself? What book tells his tale?

A warrior among warriors, a son of a god, a living legend. Goliath, the warrior champion of the Philistines. On the battlefield, he runs like a horse, wields killing instruments no normal man may heft, and revels in the fear his presence evokes. Off the field, his will is immutable, his trust invaluable, and his appetites unbearable. Goliath. This man knows no challenge.

But such a reputation will not discourage all men. Scheming rulers and generals, prophetic priests and powerful cults, dauntless warriors looking to make their own legend. Monsters. Gods. For one seemingly unkillable, at the very least, these things can ruin an otherwise pleasant day.

Along with his shield bearer, Abimelech, and soldiers more in awe than they are useful, Goliath will set out on missions for kings, face foul magic users, and walk in the shadows of mysterious halls. History tells us Goliath died at the hands of an Israelite. Goliath may have something to say about that.
About the Author: website-FB
Steven L. Shrewsbury lives, works, and writes in rural Illinois. Over 360 of his short stories have appeared in print or electronic media along with over 100 poems. 9 of his novels have been released, with more on the way. His books run from sword & sorcery (PHILISTINE, OVERKILL, THRALL, BEDLAM UNLEASHED) to historical fantasy (GODFORSAKEN) extreme horror (HAWG, TORMENTOR, STRONGER THAN DEATH) to horror-westerns (HELL BILLY, BAD MAGICK, and the forthcoming LAST MAN SCREAMING).

He loves books, British TV, guns, movies, politics, sports and hanging out with his sons. He's frequently outdoors, looking for brightness wherever it may hide.
Tour Page URL:
Tour Schedule and Activities
3/3
Beauty in Ruins
Character Post
3/3
Author HC Playa
Review
3/3
Seers, Seraphs, and More
Interview
3/3
Deal Sharing Aunt
Tour Wide Contest
3/4
SpecMusicMuse
Review
3/4
Come Selahway With Me
Character Post
3/5
Bee's Knees Reviews
Review
3/5
Book in the Bag
Interview
3/5
MichaelSciFan
Interview
3/6
Workaday Reads
Character Interview
3/6
Book and Movie Dimension Blog
Review
3/7
Azure Dwarf
Review
3/8
Armand Rosamilia, Author
Guest Post
3/8
The Official Writing Blog of Dee Dee Davies
Character Post
3/9
I Smell Sheep
Guest Post
3/9
Jess Resides Here
Guest Post