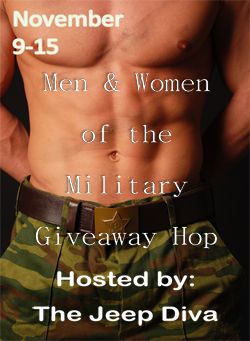 The wonderful and fabulous

Jeep Diva

(Vanessa) has put together a 117 blog hop in honor of our veterans. The military not only protects our freedom, they look good doing it! They make great heroes/heroines in our romance, mystery and thriller books.
I Smell Sheep is a paranormal website so we had to really think out of the box to find something military themed.
Then Sharon remembered her cousin is a recruiter for the Marine Corp! So I snagged some pics of him and some of his fellow Marines.
Tyler is in the back on the far right
Tyler is in the middle
Tyler is on the left
Tyler on right
Tyler on right
Tyler is on the far left
And here he is at home. Yes, the big badass Marine carries a pug on his chest...
The Jeep Diva is donating $100 to the Wounded Warrior Project. Thank you Vanessa!
Cover Me by Catherine Mann
Rambo - The Fight Continues DVD
Wounded Warrior Project magnet (I donated $10)
Sheep Swag, including the new Werewolf Hair, pen, Team Sheep trading cards, stickers, candy, Kool-Aid and Moonpie (not pictured because I ate them all, but I will get more)
To Enter:
1. Talk to the raffledude!
a Rafflecopter giveaway