Find out how everything started!
Patrick's Story: Brothers of Darkness (Amaranthine Book 0)
By Joleene Naylor
Release Date: 10-11-16
Genre: Horror/Paranormal
"Not a love story…a dark spiral into blackness."

"If you've read Shades of Gray, you know how this has to end."

The prequel to Shades of Gray tells the story of Patrick and Michael, how they got tangled into Claudius' web, and their valiant fight to escape.

When Patrick's missing brother Michael returns, he brings with him a world of darkness. Turned into a vampire against his will, Michael is the coven's whipping boy. When Patrick tries to help, he's claimed as a slave who spends his weekends preparing victims, scooping ashes, and falling prey to the vampire's twisted desires.

There's only so much hell he can take, and when vampires from a warring coven offer sanctuary in exchange for cooperation, Patrick quickly agrees. What he expected to be a few months drags out into a long smear of nightmares, and though he fights for hope and freedom, the cost of victory may be more than he bargained for.
You can preorder Patrick's Story: Brothers of Darkness from Amazon for the special price of 2.99

Shades of Gray (Amaranthine Book 1) is FREE
Excerpt:

The park was eerie in the dark. The hulking jungle gym sat like a crouched monster waiting to spring, and the swing set's long shadows were tendrils of evil that snaked towards Patrick and Michael as they leaned on the teeter-totter.

The snow slowed, then stopped. Patrick scuffled his feet in the drifts and counted off the seconds. How long would it take a vampire to find them?

And why in the hell do we want him to?

Michael's shoulders suddenly went stiff and Patrick followed his gaze. At first, he saw only darkness, then, just like last time, the guy materialized from the shadows.

"You're looking for me?"

Michael narrowed his eyes. "You're the mind reader, you tell me."

Without hesitation, the vampire asked sharply, "Why should I help you?"

Michael grabbed his brother's arm. "Come on, Pat. I told you this was a fuckin' waste of time."

Before they could move, the mysterious man replied, "I didn't say I wouldn't help, only asked why I should."

Patrick nodded hopefully. If the vampires were half as terrifying as this guy, there was no way they could deal with them alone. They needed someone who could help them and, though he couldn't say why, he was sure this was the guy for the job. Maybe because he scares the shit outta me. "Hang on, Mikey. Let's give him a chance."

Michael glared at the vampire. "Why? We don't even know who he is!"

"Does it matter?" Patrick asked desperately.

"He knows who we are!"

The man all but rolled his eyes. "My name is Jorick. What do you want from me?"

Patrick answered quickly, "He needs help to get away from Claudius."

Jorick studied them. The moments stretched thin and taut, heavy with the oppressive winter atmosphere. Finally he said, "Let me speak to my associate. We might be able to do something. Return here in five days."

Then he disappeared.
About the Author:


Website




News and Updates


Joleene Naylor is the author of the glitter-less Amaranthine vampire series, a world where vampires aren't for children. As a compliment to the novel series, she has also written several short stories, including the Vampire Morsels collection.

In her spare time, Joleene is a freelance book cover designer and for-fun photographer . She maintains several blogs full of odd ramblings, and occasionally updates her website at JoleeneNaylor.com. In what little time is left she watches anime and pins recipes and DIY, all from a crooked Victorian house in Villisca, Iowa. Between her husband and her pets, she is never lonely, and should she ever disappear one might look for her on a beach in Tahiti, sipping a tropical drink and wearing a disguise.

She currently has several books available for purchase on Amazon, Barnes and Noble, Kobo, Apple and Smashwords.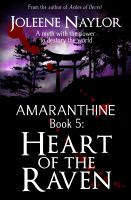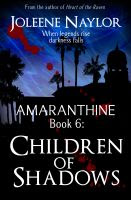 To read sample chapters and more, visit my website!
COVER ART FAQ:*
*For more info on how YOU can get YOUR book featured * on my blog, please